Grace – The World's First e-Motorbike
Grace
The World's First e-Motorbike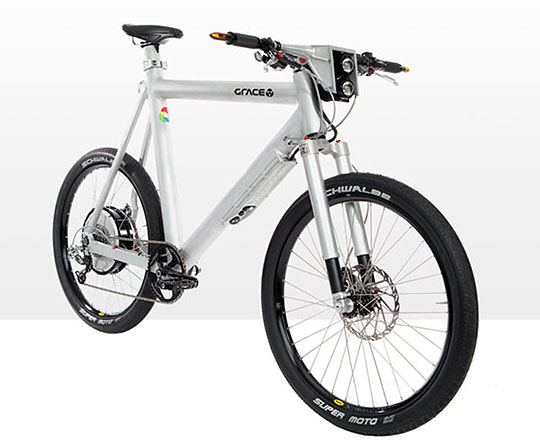 Going a bit into a different direction, we show you one of our favorite upcoming toys – the Grace e-Motorbike. It might look like a futuristic version of a regular bike, but it is actually the world's first e-motorbike that you are allowed to ride on the street. The bike comes with a patented aluminum frame and can go with one battery load (1 hours charging time) above 45 km/h for 40 kilometers. The bike is handmade in Germany, using eurofighter plane parts and formula one parts and will be coming out this month. The frame is basically indestructible and all controls are included in the handlebars, such as lights, battery management, alarm system and everything else one could need. The battery is integrated into the frame.
As you can see, an overall very impressive piece of machinery and with the rising popularity of e-bikes something to consider, if not the first one to really look great and perform at the same time. Enough talking now, you have to check out the Grace in action, only then you really get an idea of how much fun this thing will be. Check out the video here below.
Woooooooooow!!!!!!!!