Audi R8 V10 Plus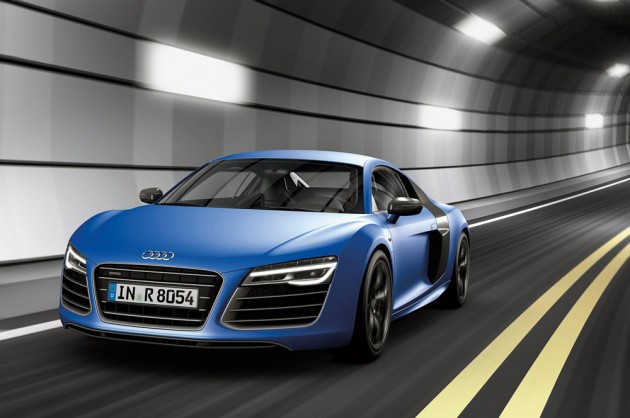 The R8 V10 plus is a new top model in the model series, with a totally new 7-speed S tronic. The LED headlights and the new rear indicator lights with dynamicized display are standard equipment on all variants.
4.44 meters (14.44 ft) long, 1.90 meters (6.23 ft) wide and only 1.25 (4.10 ft) meters high (Spyder: 1.24 meters (4.07 ft)) – the broad Audi R8, developed and built by quattro GmbH, stands firmly on the road, ready to pounce. New details lend its design even more acuity. The single-frame grille with the beveled upper corners is painted high-gloss black, with horizontal chrome inserts adorning the struts on the V10 variants. The bumper is also new, with the air inlets bearing three crossbars each. As an option, Audi installs a front splitter made of carbon fiber reinforced plastic (CFRP). The splitter is standard on the new R8 V10 plus.
The new top model of the model series is the Audi R8 V10 plus. Developing 404 kW (550 hp), its maximum torque is 540 Nm (398.28 lb-ft) at 6,500 rpm. With S tronic, the R8 V10 plus, available only as a coupé, catapults from zero to 100 km/h (62.14 mph) in 3.5 seconds and achieves a top speed of 317 km/h (196.97 mph).
Tweet